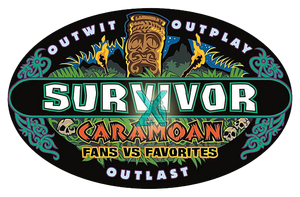 SX17: Caramoan ~ Fans vs Favorites
is the seventeenth installment of the Survivor X Series.  Once again partnering with sister site RTVGames.com, this season went back to the original format of allowing players from both FGC and RTV to participate.
This season would determine which would prove more valuable in the game- enthusiasm or experience- as the main theme Fans vs Favorites pitted 10 new & semi-new players against 10 of the best players of SX's past who were looking for their first title win.  What will happen when these big personalities finally collide?
Despite an early series of quits, going into the merge the Favorites held a major advantage over the Fans. After the first vote which saw yet another Fan leave, Eddie, Jason & Laura forged themselves into an unbreakable alliance armed with two idols against the other 7 Favorites. Everything came together completely when Ciera- determined to redeem herself from her past season- flipped to the trio of Fans who knocked out the other six Favorites one by one. In the pendultimate Tribal Council, it seemed as if Ciera was doomed to leave before the last Tribal again until Laura Alexander/RunicOne25 pulled a massive upset which not only sent her biggest competition home but solidified her position of mastermind. Once again the Fans triumphed when she went on to win in a 5-2-1 vote.
Castaways
Edit
Contestant
Original Tribe
Switched Tribe
Merged Tribe
Finish
Total Votes
James Clement

Wasityou72
Bornica

Favorites
Quit
Day 3
0
Reynold Toepfer

VULpicks.

Fans
Voted Out
Day 5
5
Francesca Hogi

shoomrat
Redemption World

Favorites
Quit
Day 7
0
Mary Sartain

Merry

Fans
Quit
Day 10
1
Jeff Kent

GabeBabe
Philippines

Favorites
Quit
Day 13
0
Sherri Biethman

AntmAllStar

Fans
Voted Out
Day 13
4
Alexis Jones

brittneydawn

Fans
Tandang
Voted Out
Day 16
3
Shamar Thomas

spoler345

Fans
Bikal
Voted Out
Day 19
6
Chet Welch

Scarlett

Fans
Tandang
Enil Edam
Medically Evacuated
Day 22
2
Hope Driskill

Lou

Fans
Bikal
Voted Out
Day 22
10
Jerri Manthey

nelehrocks
Zombie Island

Favorites
Tandang
Voted Out
Day 25
8
Peih-Gee Law

FierceIntensions
Panem

Favorites
Bikal
Medically Evacuated
Day 28
3
John Cody

BottleItUp
Blood vs Water

Favorites
Gota
Voted Out
Day 30
6
Mike Chiesl

TimmyTAR
Redemption World

Favorites
Tandang
Voted Out
Day 33
7
Fabio Birza

Petrodolar
Panem

Favorites
Gota
Voted Out
Day 36
5
Sherea Lloyd

kinkybrownsuga
Tocantina

Favorites
Bikal
Voted Out
Day 37
2
Jason Siska

roll the dice

Fans
Gota
Voted Out
Day 38
3
Ciera Eastin

CupidStunt
Blood vs Water

Favorites
Bikal
2nd Runner-Up
2
Eddie Fox

wccats

Fans
Gota
Runner-Up
5
Laura Alexander

RunicOne25

Fans
Gota
Sole Survivor
1
Game History
Edit
Voting History
Edit
Ad blocker interference detected!
Wikia is a free-to-use site that makes money from advertising. We have a modified experience for viewers using ad blockers

Wikia is not accessible if you've made further modifications. Remove the custom ad blocker rule(s) and the page will load as expected.