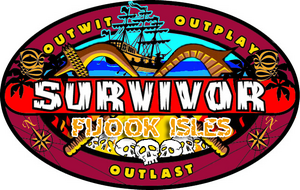 SX8: Fijook Isles was the eighth game in the series, paying homeage to the thirteenth & fourteenth seasons of the actual show. In true Cook Islands fashion, the tribes were initially divided by the race of their representative, which created some long term rivalries throughout the game.
This season instituted the Camp Life system where decisions made at camp altered the castaways ability to participate in challenges. Castaways were initially abandoned at sea with a ship full of supplies and competed amongst each other to claim them. The Caucasians and African-Americans both were able to make it back to shore rich with supplies while the Hispanics and Asian-Americans soon found themselves at a huge disadvantage right from the start.
This season is notable for SX's most ingenuious take on the racially divided core tribes resulting in the Exile Tribe- a fifth tribe made up of one member from each ethnic group that changed round to round. This season was also notable for the Exile Conspiracy, where everyone believed there was a Hidden Immunity Idol in the game during the pre-merge when in fact there was not. The Hidden Immunity Idol was introduced to the game at the merge following a Fiji-style Post-Merge Swap. Following last season's format, this season had a final three but the jury was enlarged to nine.
This season may be most notoriously known for the heated post-merge battle that took place between the integrated Aitu and Moto tribes. With the social politics and twists of the game changing literally every week, each and every vote from the final 10 onward was a blindside and the New Aitu and New Moto tribes alternated losing a member each week until the finale.
Parvati Shallow/JVJrule defeated Stacy Kimball/americanidolfan4life and Jonathan Penner/reggierules in a 4-3-2 vote, declaring her the winner after being the catalyst behind the string of post-merge blindsides and never once herself was a target.
Parvati would join Liz Kim/retro cord of Samoanesia as the second winner to play a "Perfect Game"- winning the game without once receiving a vote.
Contestants
Edit
Contestant
Original Tribe
Integration
Merged Tribe
Finish
Total Votes
Ozzy Lusth
nelehrocks
Aitu

1st Voted Out

3
Cristina Coria
I LUV TIJUANA
Aitu
2nd Voted Out

4
JP Calderon
fallon5102004
Aitu
3rd Voted Out

2
Nate Gonzalez
afraidofpanda
Ravu
4th Voted Out

3
Dreamz Herd
Planet Somewhere
Ravu
Moto
5th Voted Out

7
Lisi Linares
LisiProbst
Aitu
Moto
6th Voted Out

5
Sundra Oakley
jxxxxxblaze
Ravu
Aitu
7th Voted Out

6
Boo Bernis
Wasityou42
Raro
Moto
8th Voted Out

8
Sylvia Kwan
wariopuff
Moto
Aitu
9th Voted Out
1st Jury Member
9
Adam Gentry
survivorluver999
Raro
Aitu
10th Voted Out
2nd Jury Member
6
Edgardo Rivera
AfricaLover333
Aitu
Aitu
Bulatonga
11th Voted Out
3rd Jury Member
5
Erica Durousseau
kinkybrownsuga
Ravu
Moto
12th Voted Out
4th Jury Member
5
Jenny Guzon-Bae
sizzling bikini
Moto
Aitu
13th Voted Out
5th Jury Member
9
Cao Boi Bui
TimmyTAR
Moto
Moto
14th Voted Out
6th Jury Member
5
Jessica deBen
UblazRob
Raro
Aitu
15th Voted Out
7th Jury Member
3
Stephannie Favor
Andand19
Ravu
Moto
16th Voted Out
8th Jury Member
4
Brad Virata
stanleyolee
Moto
Aitu
17th Voted Out
9th Jury Member
5
Jonathan Penner
reggierules
Raro
Aitu
Second Runner-Up

3
Stacy Kimball
americanidolfan4life
Moto
Moto
Runner-Up

8
Parvati Shallow
JVJrule
Raro
Moto
Sole Survivor

0
Episode Title
Challenges
Exiled
Eliminated
Vote
Finish
Reward
Immunity
Episode 1: "Let the Horribly Cliche Racial Jokes Begin!"
Ravu
Adam, Ozzy, Sundra & Sylvia
Ozzy
3–1
1st Voted Out
Day 3
Raro
Moto
Aitu
Episode 2: "Questioning Your Integrity or Questioning Your Commitment?"
Ravu
Brad, Dreamz, Edgardo & Parvati
Cristina
4–0
2nd Voted Out
Day 6
Moto
Exile
Raro
Episode 3: "I'm the Only One Who Can Play Sides!"
Ravu
Raro
Jenny, Jonathan
JP
2-1
3rd Voted Out
Day 8
Moto
Lisi & Nate
Nate
3-1-1
4th Voted Out
Day 8
Episode 4: "Start Anew"
Aitu
Aitu
Lisi
Dreamz
5-1
5th Voted Out
Day 11
Episode 5: "Just Reached My Boiling Point"
Aitu
Aitu
Lisi
Lisi
4-3
6th Voted Out
Day 14
Episode 6: "Doomed to Fall"
Aitu
Jenny
None
Sundra
6-2
7th Voted Out
Day 15
Parvati
Boo
6-0
8th Voted Out
Day 15
Episode 7: "They Should Have Jumped"
Moto
Moto
Brad
Sylvia
6-1
9th Voted Out
1st Jury Member
Day 18
Episode 8: "The Oil Spill"
Moto
Moto
Brad
Adam
5-1
10th Voted Out
2nd Jury Member
Day 21
Episode 9: "This Game is All About Risk"
Stephannie
Brad, Jenny, Jonathan, Parvati & Stacy
None
Edgardo
4-1
11th Voted Out
3rd Jury Member
Day 24
Episode 10: "The Shit Has Hit the Fan"
Stacy
Brad
Stephannie
Erica
5-4
12th Voted Out
4th Jury Member
Day 27
Episode 11: "Nothing to Lose"
*Auction
Cao Boi
Stacy
Jenny
4-4
13th Voted Out
5th Jury Member
Day 30
Episode 12: "That Reward is Off the Chain!"
Stephannie
Stephannie
Cao Boi
Cao Boi
5-3
14th Voted Out
6th Jury Member
Day 33
Episode 13: "The Game is Far From Over"
Jessica
Jonathan
Parvati
Jessica
3-2-1
15th Voted Out
7th Jury Member
Day 36
Season Finale: "Pattern Complete"
None
Parvati
None
Stephannie
4–1
16th Voted Out
8th Jury Member
Day 37
Jonathan
Brad
2–2
17th Voted Out
9th Jury Member
Day 38
Reunion
Jury Vote
Jonathan
4–3–2
2nd Runner-Up
Stacy
Runner-Up
Parvati
Sole Survivor
Voting History
Edit
Original Tribes
Switched Tribes
Merged Tribe
Episode #:
1
2
3
4
5
6
7
8
9
10
11
12
13
14
15
Eliminated:
Ozzy
Cristina
JP
Nate
Dreamz
Lisi
Sundra
Boo
Sylvia
Adam
Edgardo
Erica
Jenny
Cao-Boi
Jessica
Stephannie
Brad
Parvati
Dreamz
Lisi
Boo
Erica
Stacy
Cao-Boi
Stephannie
Stephannie
Stacy
Stacy
Dreamz
Boo
Boo
Jenny
Jenny
Brad
Jessica
Jonathan
Brad
Jonathan
Nate
Sundra
Sylvia
Adam
Erica
Stacy
Cao-Boi
Stacy
Stephannie
Brad
Brad
Sundra
Sylvia
Adam
Erica
Stacy
Cao-Boi
Jessica
Stephannie
Stacy
Stephannie
Dreamz
Lisi
Boo
Edgardo
Jenny
Jenny
Brad
Jessica
Jonathan
Jessica
Sundra
Sylvia
Adam
Edgardo
Erica
Jenny
Cao-Boi
Stacy
Cao-Boi
Dreamz
Lisi
Boo
Edgardo
Jenny
Jenny
Brad
Jenny
Nate x2
Sundra
Sylvia
Adam
Erica
Stacy
Erica
Dreamz
Boo
Boo
Edgardo
Jenny
Edgardo
Cristina
JP
Sundra
Sylvia
Adam
Jessica
Adam
Ozzy
Sylvia
Sylvia
Jenny
Sylvia
Ozzy
Sundra
Adam
Boo
Dreamz
Lisi
Boo
Sundra
Ozzy
Sylvia
Lisi
Cristina
JP
Jonathan
Exiled
Boo
Dreamz
Dreamz
Nate
Lisi
JP
Cristina
Edgardo
Cristina
Cristina
Ozzy
Sylvia
Jury Vote
Finalist:
Jonathan
2/9 Votes
Parvati
4/9 Votes
Stacy
3/9 Votes
Juror
Vote
Brad
Parvati
Stephannie
Stacy
Jessica
Jonathan
Cao Boi
Stacy
Jenny
Parvati
Erica
Stacy
Edgardo
Parvati
Adam
Jonathan
Sylvia
Parvati
Ad blocker interference detected!
Wikia is a free-to-use site that makes money from advertising. We have a modified experience for viewers using ad blockers

Wikia is not accessible if you've made further modifications. Remove the custom ad blocker rule(s) and the page will load as expected.