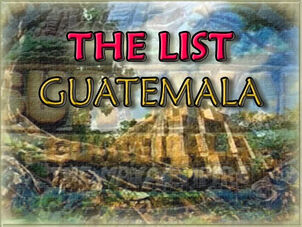 The List: Guatemala was the sixth season of the List series. At the start of the game, 16 new castaways were joined by 2 castaways who returned for a Second Chance from Palau for a grand total of 18.
Immediately the tribes faced off in a Rite of Passage, a challenge designed to test everyone's true will to stick around. This season was also the first to introduce an Individual Immunity Idol- which was given to the player who placed first place at the following Elimination Challenge. In the event they came in last or were not picked by the list, they could chose to use their Idol and the next player in line would be eliminated. No idol was ever played successfully.
In the end, Brooke Struck/Aisleyne Forever bested Brian Corridan/snowydayze in a 4-3 vote to claim the title.
Contestants
Edit
Contestant
Original Tribe
Swapped Tribe
Merged Tribe
Finish
Bottom Twos
Amy O'Hara

myersfan31

Yaxha
1st Eliminated
?
Jamie Newton

Jafet

Yaxha
2nd Eliminated
?
Judd Sergeant

keviniphawks

Nakum

3rd Eliminated

?
Bobby Jon Drinkard

lups272

Nakum
4th Eliminated
?
Lydia Morales

lanternzb54

Yaxha
Nakum
5th Eliminated
?
Jim Lynch

druid78

Nakum
Yaxha
6th Eliminated
?
Brianna Varela

LaPoo

Yaxha
Yaxha
7th Eliminated
?
Morgan McDevitt

survivorluver999

Yaxha
Yaxha
8th Eliminated
?
Rafe Judkins

bigbrothermystics

Yaxha
Yaxha
Xhakum
9th Eliminated
?
Cindy Hall

x0xCindyChickx0x

Nakum
Nakum
Xhakum
10th Eliminated
1st Jury Member
?
Stephenie LaGrossa

Jacare15

Yaxha
Nakum
Xhakum
11th Eliminated
2nd Jury Member
?
Gary Hogeboom

Rebnik222

Yaxha
Nakum
Xhakum
12th Eliminated
3rd Jury Member
?
Margaret Bobonich

realityjr

Nakum
Nakum
Xhakum
13th Eliminated
4th Jury Member
?
Blake Towsley

kamikaze156

Nakum
Yaxha
Xhakum
14th Eliminated
5th Jury Member
?
Brandon Bellinger

BloedRoodRoze

Nakum
Yaxha
Xhakum
15th Eliminated
6th Jury Member
?
Danni Boatwright

dannystultz

Nakum
Yaxha
Xhakum
16th Eliminated
7th Jury Member
?
Brian Corridan

snowydayze

Yaxha
Nakum
Xhakum
Runner-Up

?
Brooke Struck

AisleyneForever

Nakum
Nakum
Xhakum
Winner

?
Ad blocker interference detected!
Wikia is a free-to-use site that makes money from advertising. We have a modified experience for viewers using ad blockers

Wikia is not accessible if you've made further modifications. Remove the custom ad blocker rule(s) and the page will load as expected.